Categories: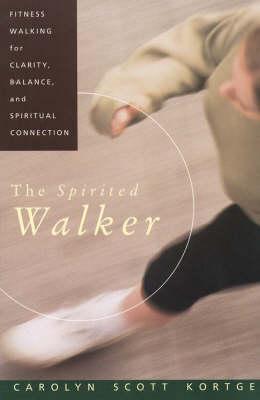 The Spirited Walker
Sold & Delivered by Atticbooks
No matter how fast or how far you walk, no matter what your goals or fitness level, wheter you walk on a treadmill or in a forest, alone or with companions, this guide will lead you along a path of mental and physical exercise that travels from sole to soul. Author Carolyn Scott Kortge, an award-winning journalist and masters racewalker, offers a wealth of easy-to-do breathing exercises, visualizations, and active affirmations that transform fitness walking into a meditative practice'of awareness, spiritual renewal, and physical vitality. "Whatever your motivation for walking -- relaxation, aerobic fitness, weight loss, a healthy heart, or interaction with nature -- a spirited walk can become the first step in a spiritual journey, " Kortge says. With humor, anecdotes, and practical advice, she shows you how to take the first step and motivates you to walk for life with an approach to fitness that puts care of the soul on equal footing with care of the body.
show more
show more
Condition :
Used Book
This is a used book. We do our best to provide good quality books for you to read, but there is no escaping the fact that it has been owned and read by someone else previously. Therefore it will show signs of wear and may be an ex library book
Add to basket
Get it by
Wednesday 31st May
Free delivery
above
KES 5000
Hurry Up!
Only

1

items left
Add to wishlist
Description
No matter how fast or how far you walk, no matter what your goals or fitness level, wheter you walk on a treadmill or in a forest, alone or with companions, this guide will lead you along a path of mental and physical exercise that travels from sole to soul. Author Carolyn Scott Kortge, an award-winning journalist and masters racewalker, offers a wealth of easy-to-do breathing exercises, visualizations, and active affirmations that transform fitness walking into a meditative practice'of awareness, spiritual renewal, and physical vitality. "Whatever your motivation for walking -- relaxation, aerobic fitness, weight loss, a healthy heart, or interaction with nature -- a spirited walk can become the first step in a spiritual journey, " Kortge says. With humor, anecdotes, and practical advice, she shows you how to take the first step and motivates you to walk for life with an approach to fitness that puts care of the soul on equal footing with care of the body.
show more
show more
Book details
Paperback |

256 pages

English

0060647361

9780060647360
About Carolyn Scott Kortge
More Books By Carolyn Scott Kortge
Buy Now
People who bought this also bought