Categories: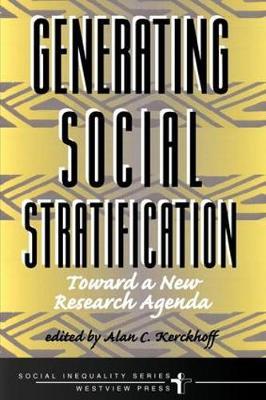 Generating Social Stratification : Toward A New Research Agenda
In this book some of the leading stratification scholars in the U.S. present empirical and theoretical essays about the institutional contexts that shape careers. Building on recent advances in theory, data, and analytic technique, the essays in this volume work toward the goal of identifying and assessing the processes by which a birth cohort is distributed in the stratification system, given their positions of origin in that system. Alan Kerckhoff's introduction situates the studies in this volume within the context of previous stratification research over several generations, making the book an invaluable resource for scholars and graduate students.
show more
show more
Condition :
Used Book
This is a used book. We do our best to provide good quality books for you to read, but there is no escaping the fact that it has been owned and read by someone else previously. Therefore it will show signs of wear and may be an ex library book
Add to basket
Get it by
Monday 5th December
Free delivery
above
KES 5000
Hurry Up!
Only

1

items left
Add to wishlist
Description
In this book some of the leading stratification scholars in the U.S. present empirical and theoretical essays about the institutional contexts that shape careers. Building on recent advances in theory, data, and analytic technique, the essays in this volume work toward the goal of identifying and assessing the processes by which a birth cohort is distributed in the stratification system, given their positions of origin in that system. Alan Kerckhoff's introduction situates the studies in this volume within the context of previous stratification research over several generations, making the book an invaluable resource for scholars and graduate students.
show more
show more
Book details
Paperback |

375 pages

English

0813367964

9780813367965
More Books By Alan C. Kerckhoff
Buy Now
People who bought this also bought