Categories: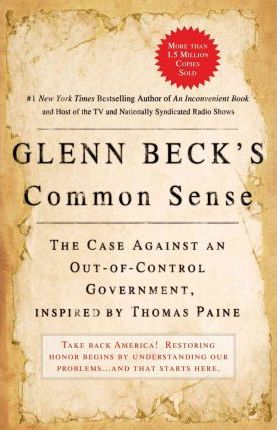 Glenn Beck's Common Sense : The Case Against an Ouf-of-Control Government, Inspired by Thomas Paine
Glenn Beck, the New York Times bestselling author of The Great Reset, revisits Thomas Paine's Common Sense.

In any era, great Americans inspire us to reach our full potential. They know with conviction what they believe within themselves. They understand that all actions have consequences. And they find commonsense solutions to the nation's problems.

One such American, Thomas Paine, was an ordinary man who changed the course of history by penning Common Sense, the concise 1776 masterpiece in which, through extraordinarily straightforward and indisputable arguments, he encouraged his fellow citizens to take control of America's future-and, ultimately, her freedom.

Nearly two and a half centuries later, those very freedoms once again hang in the balance. And now, Glenn Beck revisits Paine's powerful treatise with one purpose: to galvanize Americans to see past government's easy solutions, two-party monopoly, and illogical methods and take back our great country.
show more
show more
Condition :
Used Book
This is a used book. We do our best to provide good quality books for you to read, but there is no escaping the fact that it has been owned and read by someone else previously. Therefore it will show signs of wear and may be an ex library book
Add to basket
Get it by
Today 12 PM - 6 PM (For orders within Nairobi only )
Free delivery
above
KES 5000
Hurry Up!
Only

1

items left
Add to wishlist
Description
Glenn Beck, the New York Times bestselling author of The Great Reset, revisits Thomas Paine's Common Sense.

In any era, great Americans inspire us to reach our full potential. They know with conviction what they believe within themselves. They understand that all actions have consequences. And they find commonsense solutions to the nation's problems.

One such American, Thomas Paine, was an ordinary man who changed the course of history by penning Common Sense, the concise 1776 masterpiece in which, through extraordinarily straightforward and indisputable arguments, he encouraged his fellow citizens to take control of America's future-and, ultimately, her freedom.

Nearly two and a half centuries later, those very freedoms once again hang in the balance. And now, Glenn Beck revisits Paine's powerful treatise with one purpose: to galvanize Americans to see past government's easy solutions, two-party monopoly, and illogical methods and take back our great country.
show more
show more
Book details
Paperback |

192 pages

English

1439168571

9781439168578
People who bought this also bought