Categories: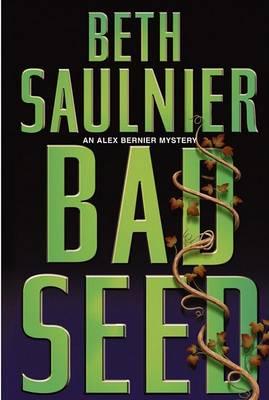 Bad Seed by Beth Saulnier
Journalist Alex Bernier has her hands full investigating a breaking story for the Gabriel Monitor. A legion of activists has besieged Benson University to protest research on genetically engineered food. The debate threatens to rip the town in half, as people in favour of using bioengineering face off against those who oppose the technology at any cost. When Kate Barnett, a charismatic plant science professor and avid proponent of genetic engineering, is found beaten to death in her lab, the activists are the number one suspects. But is it really such an open-and-shut case? What about Barnett's colleagues, envious of her fame and grant money? Her troubled son, who has been in and out of jail? Or the grad student who accused Barnett of stealing her ideas? As Alex searches for the truth, she discovers that her best friend, hard-drinking science reporter Jake Madison, is out of commission after an overdose everyone assumes was self-inflicted - everyone except Alex.
show more
show more
Condition :
Used Book
This is a used book. We do our best to provide good quality books for you to read, but there is no escaping the fact that it has been owned and read by someone else previously. Therefore it will show signs of wear and may be an ex library book
Add to basket
Get it by
Friday 3rd February
Free delivery
above
KES 5000
Hurry Up!
Only

1

items left
Add to wishlist
Description
Journalist Alex Bernier has her hands full investigating a breaking story for the Gabriel Monitor. A legion of activists has besieged Benson University to protest research on genetically engineered food. The debate threatens to rip the town in half, as people in favour of using bioengineering face off against those who oppose the technology at any cost. When Kate Barnett, a charismatic plant science professor and avid proponent of genetic engineering, is found beaten to death in her lab, the activists are the number one suspects. But is it really such an open-and-shut case? What about Barnett's colleagues, envious of her fame and grant money? Her troubled son, who has been in and out of jail? Or the grad student who accused Barnett of stealing her ideas? As Alex searches for the truth, she discovers that her best friend, hard-drinking science reporter Jake Madison, is out of commission after an overdose everyone assumes was self-inflicted - everyone except Alex.
show more
show more
Book details
Hardcover |

304 pages

English

0892967498

9780892967490
More Books By Beth Saulnier
People who bought this also bought